This is a complex subject. Now the wind will certainly affect your day, whether your fishing from the shore or a boat.
So understanding what you see on Barometric Charts is a must.
Air pressure is the force of the air pressing down on the Earth's surface. As air is all around us, there is air pressure all around us too. Near sea level there is more air above you than there would be on the top of Mount Everest, therefore the air pressure is higher near the sea than it is on the top of a mountain.
A mass of low pressure is an area of air that is rising.
Similarly, if the temperature is lower, the air pressure will increase. Warm air near the surface will tend to rise. A mass of low pressure is an area of air that is rising. As is rises it expands and cools. Cooler air cannot hold as much water as warmer air, so as the air rises the water will condense and form clouds. This is why an area of low pressure will often be accompanied by clouds and rain.
Conversely, an area of high pressure is a section of air which is sinking. As the air sinks it warms, so is able to hold more water, and therefore areas of high pressure are often accompanied by fair weather. Points of the same pressure can be joined up to form lines called 'isobars'. These form rings around high and low pressure centre's.
Pressure charts show the strength of high and low pressure areas (often marked with a H or L ) and plot the lines of equal pressure. It's simplest to think of a pressure chart as similar to a geographical map, with highs like mountains and lows like valleys - The lines of equal pressure (isobars) on a pressure map are equivalent to the lines of equal altitude (height contours) on a geographical map.
The red semicircles indicate a warm front, which is the leading edge of a low pressure (warm air is advancing to replace cold air). The blue triangles indicate a cold front, which is the trailing edge (cold air is advancing to replace warm air). You'll also see lines that have both triangles and semicircles. These are "occluded" fronts, where the cold front has combined with the warm front.
The pressure at the centre of a storm is not enough to tell us how strong the winds and waves are around that storm. This is because wind speed is determined by -
The pressure gradient - how closely spaced the isobars are.
The latitude of the storm.
This means that
You can get strong winds and big waves from a weak low if it is next to a powerful high.
A 980bM storm off the coast of Portugal will produce bigger winds & waves than a 980mB storm off the coast of Scotland
Winds blow in an attempt to combat the differences in air pressure. They try to flow directly from a high to a low pressure, but due to the spinning of the earth and friction of the surface, actually flow around the pressure centre's, following the isobars. The larger the difference in pressure the stronger the winds will blow.
When isobars on a weather chart are close together, it will be a blustery day

, and when this is accompanied by an area of low pressure, it will also be wet. A wet and windy day is not exactly unusual for the British Isles nor indeed are areas of low pressure and closely packed isobars.
Wind charts show the wind speed and direction for a given altitude. Be careful to check the altitude your wind chart applies to - for fishing, you want surface-level winds. To get around surface friction problems, surface-level wind speeds are normally given for 10 metres above ground level.
Wind speed and direction. Wind speed may be in knots (20kts is 23mph or 37kmph), miles per hour or kilometres per hour. On met charts, wind speed is often represented by feathers on a wind arrow, where one big feather = 10kts and one small one = 5kts. Wind direction is represented by the direction the arrow is pointing towards.
Wave charts describe waves across the oceans.
But if you look at the sea surface in open ocean you see an almost random pattern. With hundreds of waves, each with different heights and directions.
Wave charts cannot show every wave and every ripple. They usually show only one type of wave at a given position. The three main types of waves are
Swell (long-travelled waves)
Windsea (short-travelled waves)
Significant waves (a mathematical average of swell and windsea).
To simplify things further, wave charts usually only display one or two of the following three characteristics that are needed to fully describe a wave -
Wave height
Wave direction
Wave period
The first two are fairly obvious.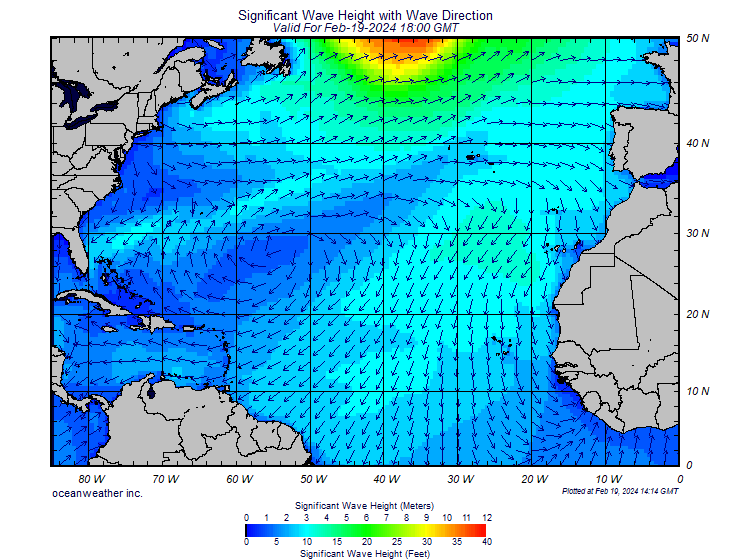 The latest Mid Atlantic significant wave height & direction, from Oceanweather
Wave period is the time (in seconds) between successive waves. Wave period charts show either Swell period (long-travelled waves), Windsea (short-travelled waves), or Peak period (a mathematical average of swell and windsea wave periods).
On Peak period charts, waves that have been marching along for days (swell waves), may suddenly all but disappear. Remember - The long swell waves are still there, but the chart has masked them with locally-generated (windsea) waves.
Remember the saying when it's windy and the fish are not biting,


"a bad day's fishing is better than a good day at work!"